Show Info

Venue

Tavastia Club

City

Helsinki

State

Finland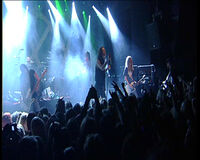 Line-up
Migé Amour: Bass
Emerson Burton: Keyboards
Linde: Guitar
Gas Lipstick: Drums, percussion
Ville Valo: Vocals
Set List
13. "Pretending"
14. "Wicked Game"
15. "Buried Alive by Love"
16. "Solitary Man"
17. "Sweet Pandemonium"
18. "Razorblade Kiss"
19. "And Love Said No"
20. "Gone With the Sin"
Notes & Trivia
This show was broadcasted live that night on MTV3+. The re-broadcast showed a few more songs that weren't shown during the live broadcast.
The only songs the band did not want aired was "Solitary Man", "Sweet Pandemonium" and "And Love Said No".
The band stops mid-way into "The Sacrament" to stop a fight on the floor. Ville tells them to "stop fighting or take it to the bathroom."
Bootleg Recordings
External Links
Ad blocker interference detected!
Wikia is a free-to-use site that makes money from advertising. We have a modified experience for viewers using ad blockers

Wikia is not accessible if you've made further modifications. Remove the custom ad blocker rule(s) and the page will load as expected.