Show Info

Venue

Irving Plaza

City

New York City

State

New York

Support

Auf der Maur, Monster Magnet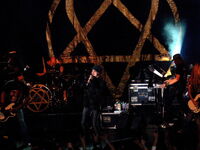 Line-up
Migé Amour: Bass
Emerson Burton: Keyboards
Linde: Guitar
Gas Lipstick: Drums, percussion
Ville Valo: Vocals
Set List
14. "Soul on Fire"
Notes & Trivia
Before the last chorus of "The Funeral of Hearts" Ville extended the microphone into the crowd where an attendee sang the line "Love's the funeral of hearts" line.
This is the show where Ville was reviewed as being extremely intoxicated and made headlines around the world.
Earlier before the show the band had appeared on the first episode of Bam Margera's new radio show Radio Bam.
Bootleg Recordings
External Links
Ad blocker interference detected!
Wikia is a free-to-use site that makes money from advertising. We have a modified experience for viewers using ad blockers

Wikia is not accessible if you've made further modifications. Remove the custom ad blocker rule(s) and the page will load as expected.